Host
Craig "C.J." Jackson
Broadcast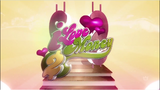 VH1: 7/6/2008 - 12/1/2010
Packager
Endemol USA
I Love Money (later as I Love Money 2) features former contestants from hit VH1 reality shows competed in physical and mental challenges while aiming for a $250,000 grand prize.
Premise
[
]
The series that gives fifteen widely popular All-Star cast members from the "of Love" series the chance to battle it out for what they really wanted all along - fame -and even more importantly - money. Last time these cast members competed it was for the heart of Bret Michaels or Flavor Flav, but on "I Love Money" the stakes are arguably higher - and definitely "greener" - the winner is walking away with $250,000.
Winners
[
]
Season 1
Nicole "Hoopz" Alexander

Joshua "Whiteboy" Gallander (runner-up)
Season 2
Angela "Myammee" Pitts

George "Tailor Made" Weisgerber (runner-up)
Season 3
No winner due to season's cancellation
Season 4
Mindy Hall

Chris "Brooklyn" Cas (runner-up)
List of Shows Involved with the casts
[
]
Flavor of Love
Charm School
I Love New York
Rock of Love
Real Chance of Love
For The Love of Ray J
Daisy of Love
Megan Wants a Millionaire
Trivia
[
]
The show's third season was skipped due to Ryan Jenkins involvement in the death of Jasmine Fiore as well as his own suicide.
The show's fourth (and final) season as a follow up to the unaired I Love Money 3 aired September 19 until December 1, 2010.
Links
[
]
Season 1 (via Internet Archive)
Season 2 (via Internet Archive)