Hosts
Clifton Fadiman (1938–August 1952)
John K.M. McCaffery (August–September 1952)
Announcers
Howard Claney
Milton Cross
Ed Herlihy
Ben Grauer
Broadcast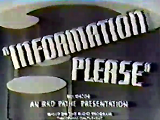 NBC Blue (Weekly): 5/17/1938 – 11/5/1940
NBC Radio (Weekly): 11/15/1940 – 6/24/1946
CBS Radio (Weekly): 10/2/1946 – 6/25/1947
Mutual Radio: (Weekly): 9/26/1947 – 6/25/1948
Syndicated Radio Repeats: 8/9/1950 – 4/22/1951
CBS Primetime: 6/29/1952 – 9/21/1952
Packager
Dan Golenpaul Productions
Information Please was a panel game show created by Dan Golenpaul where the panel tried to answer questions posed by the American public.
Format
[
]
Everyday people sent questions to the show. If they were used, they received a small prize. If the panel couldn't come up with the correct answer, the person would also receive a bigger prize.
For the first few shows, the award for a used question was $2, and if the questions stumped the panel, they received an additional $5. These were quickly increased to $5 and $10, respectively. Within months, a complete Encyclopedia Britannica was added to the prize for stumping the panel. In 1940, the cash awards increased to $10 and $25, respectively.
The prize for questions that stumped the panel was paid from a budget furnished by the show for that particular broadcast; a cash register ring indicated that the money was gone from that budget. At the end of the broadcast, any money left in the budget was divided by the panelists.
By the end of its run on radio, the prize for used questions became an Encyclopedia Britannica World Atlas, with a $50 savings bond and the Encyclopedia added for stumping the panel.
For the television version, the prizes were gift certificates from the American Booksellers Association (ABA) to use for buying books or subscriptions to newspapers or magazines. A $10 gift certificate was awarded for used questions, and a $50 gift certificate was added for stumping the panel.
Sponsors
[
]
Canada Dry (1938 to 1940)
Lucky Strike (1940 to 1943)
HJ Heinz (1943 to 1945)
Mobilgas (1945 to 1946)
Parker Pens (1946 to 1947)
Various (certain weeks from 1947 to 1948)
Production Location
[
]
New York City, NY
Australian Version
[
]
An Australian version of the program was first broadcast from Melbourne radio station 3DB in about 1939, and was relayed to Sydney station 2CH from July 1941. It was soon relayed nationwide through the Major Broadcasting Network. The program continued into the early 1960s. John Stuart was the host. (Stuart was a prominent 3DB broadcaster who presented the breakfast program under the pseudonym Daybreak Dan, and the children's session as Bob Breezy.) Panelists included Barry Jones, Edward Alexander Mann who broadcast as The Watchman, Crosbie Morrison, Alan Nichols, John Lynch, Professor W.A. Osborne,Ian Mair, Dr Charles Souter, Eric Welch.
Trivia
[
]
The television version aired live on Sunday nights.
From 1939 to 1942, various episodes of the radio version were filmed for showing in theaters. At least one of these is known to exist, providing the earliest known visual recording of a game show.
During World War II, the show frequently went on tours from its New York City base to promote the buying of war bonds. Instead of the usual cash prize, the question writer would win a bond.
Links
[
]