Hosts
Leo Durocher (January 1959)
Mel Allen (January–April 1959, October 1959–April 1960)
Bud Palmer (April–October 1959, April–June 1960)
Milton Berle (1960–1961 Season)
Play-by-Play
Chick Hearn
Bayuk Cigar Girl
Laurie Brady
Broadcast (NBC Primetime)
1/9/1959 – 6/24/1960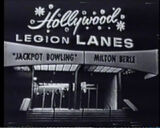 9/19/1960 – 3/13/1961
Packagers
NBC Productions (1959–1960)
Sagebrush Productions (1960–1961)
Jackpot Bowling was the bowling game show where contestants bowled for bucks.
Gameplay
[
]
Two competing bowlers faced-off against each other in nine frames of bowling. Unlike regular bowling, only strikes counted for this show. Each player competed to bowl as many strikes as possible. The bowler to make the most strikes won the match and $1,000 in cash. The runner up received $250 and a product from the sponsor. Any bowler who bowled six strikes in a row (and thus, two turkeys in a row) automatically won the match and a jackpot that started at $5,000 and grew by $1,000 each week until won. In this version, only one match was played, as the show was only 15 minutes long.
When Milton Berle took over the show, the format changed. The show was now 30 minutes long, and because of this, two matches were played each show. In the first match, two bowlers competed for $1,000 as before, and bowling six strikes in a row automatically won the match; in this version, however, the winner who did so won a flat $5,000. The winner of the match would then have a chance to face the "King of the Hill" bowler for another $1,000 and the right to return as the "King of the Hill" on the following week's show. Whoever bowled six strikes in a row in this match, was automatically the winner and won the jackpot, which now started at $25,000, and grew by $5,000 each week until won. Also, at midpoint in the show, celebrity guests came aboard to bowl for their favorite charities. The charity would receive $500 plus another $50 for each pin knocked down, for a maximum of $1,000.
Trivia
[
]
The original name for Jackpot Bowling was called Phillies Jackpot Bowling, due to the fact that Phillies Cigars sponsored the show. After Milton Berle took over, the show changed cigar brand sponsors to Bayuk Cigars.
In one episode, the late actress Diana Dors bowled for her favorite charity. During that time, Diana's husband (who was in the audience that night) was Dickie Dawson, better known as Richard Dawson, the future host of Goodson-Todman's Family Feud.
Bowling Alley Sets
[
]
During the Phillies Jackpot Bowling years, the show was set at T-Bowl Bowling Alley in Wayne, NJ. It was also set at Hollywood Bowling Lanes and Woodhaven Lanes (both in Queens, NY).
In the Milton Berle era, the show was set at Hollywood Legion Lanes in Hollywood, CA.
YouTube Links
[
]
A full episode from January 23, 1961: