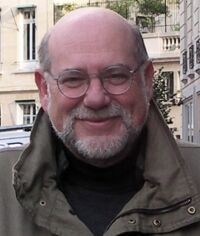 Jay Wolpert (January 29, 1942-January 3, 2022) was an American television producer and screenwriter. His first experience in television was as a contestant on Jeopardy! in 1969; he won the Tournament of Champions in that year. No video records of Wolpert's appearances have survived, but still photos of Wolpert receiving the trophy from Art Fleming do exist, as does the trophy itself.
After working for Dan Enright in Canada, Wolpert returned to the United States. He worked for Chuck Barris and Goodson-Todman Productions before starting his own game show production company.
At one time, he was considered to host his 1983 creation Hit Man, but he bailed out due to the fact that Brandon Tartikoff then-head of NBC wanted him to lose 20 pounds and wear a toupee. So the job instead went to future Press Your Luck host Peter Tomarken.
Wolpert also produced game shows for other packagers. In 1994, he returned to the Goodson company to produce The New Price is Right with host Doug Davidson. In 1998, Wolpert was executive producer of the Michael Burger version of Match Game. In the 2010–11 season, he was listed as a consultant in the credits of Who Wants to Be a Millionaire.
As a screenwriter, Wolpert wrote the script for the 2002 film of The Count of Monte Cristo. He also received a story credit for the 2003 film Pirates of the Caribbean: The Curse of the Black Pearl.
Death
[
]
On January 3, 2022; Wolpert died of complications from Alzheimer's Disease at the age of 79; 26 days shy of his 80th birthday.
Shows produced
[
]
Pilots produced
[
]
Shows appeared
[
]
Link
[
]