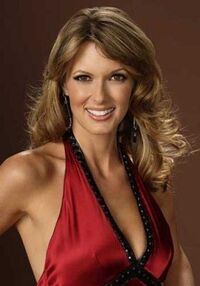 Jill Manas grew up in Ellicot City, Maryland and moved to Diamond Bar, California at age 7 were she attended Diamond Bar High School, becoming a varsity cheerleader for three years and running varsity track for three years as well. Manas was Prom Princess in her junior year and was voted most likely to become Miss America. Manas even won the biggest pig award in her senior year, which is a funny thing because she only weighed 105 lbs. But don't get her wrong, Manas loves to eat, especially pasta. In high school, Manas created a club so that she could be the president and put it on her college application It was a performing arts club, but they only had one meeting. Manas has been a full time model since age 14. Modeling paid her through USC where Manas graduated with a bachelor's degree in communications. After graduating, Manas has also worn approximately 9,000 wedding dresses but has never been married herself.
Manas' travels have enable her to say "hello" in four different languages including: Spanish, English, Japanese and Mandarin. Other talents include baton swinging and playing baseball better than most men. One talent Manas would like to keep hidden is her ability to eat more than her fiance.
Manas loves to drive fast and recently raced on a NASCAR raceway in a NASCAR racecar at 160 mph (Miles Per Hour). Manas has skydived but found it boring - she'd much prefer to cook Italian food and bake.
Show appeared
[
]
Link
[
]