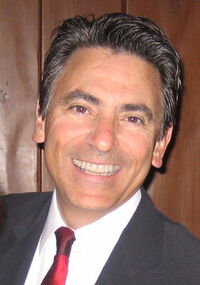 Joe Cipriano (born September 8, 1954) is an American voiceover actor.
Career
[
]
Cipriano began his career as a broadcaster in Waterbury, Connecticut, while still in high school. Since then, Cipriano has worked on the air for the FOX, NBC, ABC, and CBS TV and Radio networks, achieving success on and off camera. Not to mention doing announcing work for several TV shows.
Cipriano has been the announcer for the Grammy Awards multiple times. He performed the same function for the 57th Annual Primetime Emmy Awards in 2005, the 60th Primetime Emmy Awards in 2008, and in the past several years he has also been the live announcer for many of television's biggest events, such as:
Blockbuster Entertainment Awards
VH1 Honors
GQ Magazine's "Men of the Year" awards
Elton John Live
Johnny Cash Tribute
Genius, A Night for Ray Charles
Cipriano has also worked on game shows, including Deal or No Deal and 1 vs. 100. In March 2011, he substituted on Wheel of Fortune.
His radio career includes having hosted The World Chart Show from 1995 to 2004. From 1987 to 1992, Cipriano produced and hosted two shows that aired in Tokyo, Yokohama, Osaka, and Kobe, Japan: the L.A. Express and Toyota California Classics.
Cipriano has also filled-in for Casey Kasem on American Top 40.
Cipriano has appeared in commercials with several national spots, and in acting for TV and movies. In 1989, he was featured on the NBC sitcom Knight and Daye. In 2005, Cipriano was one of 13 contributors to the book, Secrets of Voice Over Success by Joan Baker, a book which tells the stories of 13 voice over actors and how they did it. The proceeds from the book go to Alzheimer's Research.
Today, Joe and his wife Ann along with their two children live in Beverly Hills, California. Joe is an avid tennis player.
Joe Cipriano has worked as an on-air personality for the following radio stations:
KIIS-FM - Los Angeles
KKHR - Los Angeles (CBS Hitradio)
KHTZ-FM - Los Angeles (K-Hits)
WRQX - Washington, D.C. (ABC-Q107)
WKYS - Washington, D.C. (NBC)
WDRC AM/FM - Hartford, Connecticut
WWCO AM/FM - Waterbury, Connecticut
Shows announced
[
]
Links
[
]