Hosts
Fred Allen

Herb Shriner (sub)
Announcer
Don Pardo
Commercial Announcer
Dennis James (for Old Gold Cigarettes)
Broadcast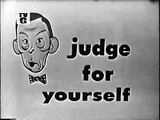 NBC Primetime: 8/18/1953 – 5/11/1954
Packager
Mark Goodson-Bill Todman Productions
Judge For Yourself was a short-lived, audience participation game show.
Format
[
]
1953
[
]
In the original format, three professional acts (by singers, musicians, dancers, comedians, etc.) performed and were rated 1-2-3 by two sets of judges. One set of judges was composed of three celebrities, while the other set of three were members of the studio audience.
If an audience-judge's ratings exactly matched that of one of the celeb-judges, he/she won a jackpot that started at $1,000 and increased by $1,000 per week until won. If more than one audience-judge gave the same rankings as the celeb-judges, those players split the jackpot.
1954
[
]
The format was changed on January 5, 1954. Three contestants now listened to songs written by amateur songwriters that were performed by the show's regulars. The players tried to determine the one song that the audience liked best, and any player who guessed correctly won part of the jackpot (now a flat $1,000).
Dancing Cigarette Packs
Dixie Dunbar (Old Gold Regular)
Floria Vestoff (Old Gold King Size)
Featured Singers
Bob Carroll
Kitty Kallen
Judy Johnson
The Skylars
Trivia
[
]
Host Fred Allen had previously hosted the pilot of Two for the Money in 1952, but due to his heart condition could not emcee a more "strenuous" game or quiz show such as that. As a result, Goodson-Todman created Judge For Yourself, where Fred's role was generally limited to interviewing the contestants. Judge replaced Money on NBC's schedule, with the latter moving to CBS.
After the show ended, Allen became a semi-regular panelist on What's My Line? from 1954-1956, shortly before his death.
Taping Location
[
]
NBC Studio 6B, New York City, NY
Rating
[
]

Episode Status
[
]
Approximately 19 episodes exist, most held by UCLA and/or the Paley Center for Media.
Due to the prominent Old Gold sponsorship, GSN has only ever aired seven episodes, and then only once each: specifically, in 1997 as part of "The Lost Episodes", a two-hour Friday-night block of shows with prominent cigarette/cigar sponsorship on the set (also including Two for the Money, Winston-sponsored I've Got a Secret, and Marlboro/Salem-sponsored To Tell the Truth). The block ended after seven weeks due to GSN's main Goodson-Todman lease expiring, setting off the network's so-called "Dark Period".
YouTube Links
[
]
Complete intro, with the Old Gold sponsor plug removed from GSN's airings