Host
Eric Lawson
Co-Hosts
Gigi Orsillo
Isaac Witty
Broadcast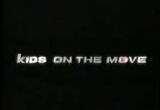 TBN: 1998 – 2000
Packager
Wille George Ministries (Church on the Move)
From Dry Gulch, USA, it's KIDS ON THE MOVE! WITH YOUR HOST, ERIC LAWSON! 
Kids on the Move was a short-lived, religious-themed game show that tested children on their Sunday School Knowledge.
Gameplay
[
]
Two teams of three competed, with each team seated in a car in that team's color. One team was blue, and the other team was red. The game was played in three rounds.
Round 1
[
]
The teams were shown three videos with a common theme. After each video, Eric would ask the teams two questions about that video to test their memory. A team who buzzed in with the correct answer to a question scored 35,000 points. To buzz in, the teams had to honk their car horn.
Round 2
[
]
The teams would race against each other, one member at a time each, on go-karts in a race track, and whichever team finished the race first would score 250,000 points.
Final Round
[
]
Each team had one minute to rearrange blocks with words on them that made up the day's "Turbo Verse", and correctly doing so would score a team 250,000 points, but the team that did so the fastest would score a bonus 150,000 points on top of that; after a team had a chance to figure out the verse, they had to guess where that verse is found for 100,000 points.
---
The team with the most points at the end of the game (out of a possible 960,000) were the winners and that team would receive a trophy.
Taping Location
[
]
Camp Dry Gulch, Oklahoma
YouTube Videos
[
]