Host
Curtis Stone
All-Star Challengers
Elizabeth Falkner
Jet Tila
Madison Cowan
Michael Chiarello
Mikey Robins
Broadcast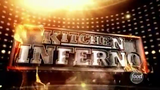 Food Network: 11/5/2014 - 12/24/2014
Packager
Relativity Television
Kitchen Inferno is a reality competition series with chefs are forced to bet on their skills with cash on the line.
Premise
[
]
Each week, contestants will face off in culinary showdowns in front of a live audience during the course of four possible rounds. How far they advance depends on their willingness to tempt fate by playing for money and risking it all in the process.
With a grand prize of $25,000 at stake, chefs will be forced to do more than execute a properly seasoned plate or a beautifully adorned dish; as they begin their journey up the culinary ladder, they'll face tests that are progressively more difficult, and it's up to them to deiced to tackle and when to walk away. They can continue playing for the whopping sum, but if they chance their luck and fail, they'll have to forfeit their winnings and succumb to blazing defeat.
Host Curtis Stone will be on hand to oversee the fiery contest, and after each round a panel of leading culinarians will execute blind taste test to determine the winner. Because the judges won't know whether a dish is prepared by a chef contestant or one of the all-star challengers including: Elizabeth Falkner, Jet Tila, Madison Cowan, Mikey Robins and Michael Chiarello. It's anybody's game.
Link
[
]