Hosts
Andi Matheny (1995–1997)
Jillian Hamilton (1997–1998)
Robin Nance (1998–1999)
Broadcast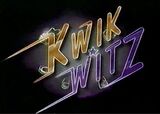 Limited-Run Pilot: 1995
Syndication (Weekly): 9/20/1996 – 9/1/1999
Packager
Beau & Arrow Productions
Kwik Witz was a show similar to Whose Line is it Anyway?, long before the American version started to air. It was the show where people acted out improvisational comedy acts. The show was changed to Quick Witz later in the run.
Gameplay
[
]
Two teams of two performers each (both of them made up their own team names) played a series of improv games. At the end of each game, the audience voted on who's sketch they liked best, and the teams were given points based on percentage of audience members who voted for them. Unlike most game shows, they will not be knowing their current scores are until the end of the show. Only the home audience will be keeping track of their scores throughout the show. The team with the most points, wins the game and a prize chosen by the losing team.
Trivia
[
]
The show was originally launched with a limited run pilot season in 1995, which was distributed by Hearst-Argyle Television (via their Milwaukee station, WISN-TV, which helped to coordinate the pilot tapings) and Beau & Arrow to stations throughout the Midwest during the test runs.
Nationally, the show debuted on September 20, 1996 and was cancelled in the midst of its third season in 1999 (during which the spelling of its title was altered to Quick Witz).
The show shared studio space with the popular talk show Sally Jessy Raphael.
Original host Andi Matheny went on to host a briefly short-lived dating game show on USA Network called Friends or Lovers in 2000.
Wayne Brady was one of the regular contestants before Whose Line?
Actor Steve Carell (The Office) appeared as a contestant on at least one episode.
Studio
[
]
WMAQ-TV, Chicago, IL
Videos
[
]
YouTube
[
]
Vimeo
[
]
3 Minutes of Jimmy Carrane & Noah Gregoropoulos as "Deadpan Walking" on 90s late night comedy show KWIK WITZ!