Hosts
Johnny & Penny Olson (1944 – April 1949)
Tom Moore (April 1949 – 1950)
Assistant (TV version only)
Phil Patton
Broadcast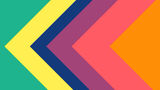 Blue Network (Daily): 6/4/1943 – 6/23/1944
ABC Radio (Daily): 6/26/1944 – 7/21/1950
ABC Primetime: 4/22/1949 – 6/10/1949
Packager
Tom Moore Productions
Ladies Be Seated was a long-running radio quiz show that had a short-lived TV run in 1949.
Gameplay
[
]
This show featured quizzes and stunts for female members of the studio audience, who could win a $300 merchandise package for success. It began as a spoof of radio programs that provided household hints for women. It initially featured "blindfold husband-and-wife gags, spaghetti-eating contests, and other forms of audio slapstick". The version hosted by the Olsons included identifying songs, recognizing good deeds, and interviews with children.
Production Locations
[
]
The show was originally broadcast from WJZ in New York City, NY (although an early television broadcast was taped at WRJB in Schenectady, NY in 1945 during its radio run). Effective 3/31/1947, the show was produced at WENR Studios at the Civic Opera House in Chicago, IL.
Rating
[
]