Host
Dick Van Dyke
Announcer
Tom Reddy
Broadcast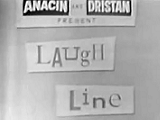 NBC Primetime: 4/16/1959 – 6/11/1959
Packager
SRO Productions
"This is a living cartoon. Tonight, you will see and hear comedy lines created for this, and other living cartoons, on LAUGH LINE! Laugh Line is brought to you by (insert sponsors)! And here is your host and cartooninerockitor, DICK VAN DYKE!"
Laugh Line was a short-lived panel comedy game show similar to an earlier comedy panel game Can You Top This?.
Gameplay
[
]
A celebrity panel of four watched a group of comedians (who changed each week) perform a silent comedy routine (suggested by the viewers at home) and in turn, had to come up with a punch line for the routine. The viewers described a humorous situation and positions for the actors. Each panelist would attempt to give a punch line for the routine. Audience applause then determined the winning punch line (either the one submitted with the sketch, or the one supplied by the panelist); the viewer won $5 for sending in the routine, and another $5 for each panelist who didn't provide a funnier punch line (for a top prize of $25).
Panelists
[
]
Orson Bean
Pat Harrington Jr.
Dorothy Loudon
Elaine May
Mike Nichols
Inventor
[
]
Frank Wayne
Studio
[
]
NBC Studio 6B, New York City, NY
Trivia
[
]
This is one of two game shows hosted by the legendary Dick Van Dyke long before starring in his successful Dick Van Dyke Show, the other being Mother's Day.
YouTube Links
[
]