Host
Bob Clayton
Assistants
Kathy Mitchell (Daytime)
Rita Mueller (Saturday Morning)
Announcers
Johnny Gilbert
Dirk Fredericks
Broadcast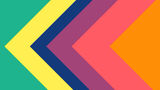 ABC Daytime: 10/2/1961 – 3/30/1962
ABC Saturday Mornings: 9/29/1962 – 12/22/1962
Packagers
TV Games (1961)
Delta Productions (1962)
Make a Face was a short-lived game show where contestants tried to identify celebrities from portions of pictures displayed on a revolving wheel.
Gameplay
[
]
Two contestants, playing one at a time, attempted to create the face of a character (boy scout, policeman, etc.) by stopping three revolving wheels on portions of a face. A player who stopped the wheels in the correct positions would be shown a portion of the face of a famous celebrity. The first player to correctly guess the identity of the celebrity won a prize.
Trivia
[
]
The daytime version had adults competing as contestants, with the Saturday-morning version having children playing the game.
Studio
[
]
Little Theater, New York City, NY
Merchandise
[
]
Milton Bradley manufactured a home game based on the show in 1962.