Hosts
Bud Collyer (1952)
Douglas Edwards (1953)
Peter Donald (1954–1956)
Eddie Bracken (1957)
Robert Q. Lewis (1958)
Bert Parks (1958–1960)
Richard Dawson (1974–1975)
Announcers
Johnny Olson (1952–1960)
Jay Stewart (1974–1975)
Broadcast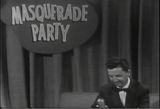 NBC Primetime: 7/14/1952 – 8/25/1952, 3/6/1957 – 9/4/1957, 10/2/1958 – 9/24/1959, 1/29/1960 – 9/23/1960
CBS Primetime: 6/22/1953 – 9/14/1953, 6/21/1954 – 9/27/1954, 8/4/1958 – 9/15/1958, 10/26/1959 – 1/18/1960
ABC Primetime: 9/29/1954 – 12/29/1956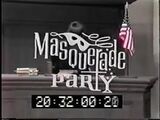 Syndication (Weekly): 9/9/1974 – 3/31/1975 (reruns aired until 9/1975)
Packagers
Wolf Productions (1952–1960)
Stefan Hatos-Monty Hall Productions (1974–1975)
Distributor
20th Century Fox Television
OPENING SPIEL (1950s):
"Who is this famous person? Well, you'll find out in just a moment on that exciting and hilarious television game, MASQUERADE PARTY! Brought to you by Esquire Shoe Polish, makers of Esquire Boot Polish and Esquire Lanol-White! And now here's your genial master of ceremonies for Masquerade Party, Bud Collyer/Douglas Edwards/Peter Donald Esquire/Eddie Bracken/Robert Q. Lewis/Bert Parks!"
OPENING SPIEL (1970s):
"(insert question). That masquerade is a clue to his or her identity. If you don't know who it is now, you'll soon find out on television's most colorful game, MASQUERADE PARTY! And here's your host for Masquerade Party, RICHARD DAWSON!"
Masquerade Party was a panel game show on network television in the 1950s & 1960s and syndicated in the 1970s.
Gameplay
[
]
A celebrity guest appeared in costume, and four panelists asked questions to determine the guest's identity, which was known to the home viewers.
On the 1950s version, each panelist could ask up to five questions at a time, but could pass at anytime. The panel would be given five minutes (5:00) to guess the identity of the guest, who earned $1 per second for the charity of the guest's choice.
On the 1970s version, panelists Bill Bixby, Lee Meriwether, and Nipsey Russell would each ask a maximum of three questions. There was also an audience participation element at the end of the show. Each panelist would ask one question to the guest, and before he/she was unmasked, Dawson invited two members of the studio audience onstage to guess the identity of the costumed guest. A prize package was awarded to an audience member who guessed correctly.
Timekeeper
[
]
Renee Wolf (1952–1960)
Music
[
]
Bobby Rosengarten (1952–1960)
Sheldon Allman & Stan Worth (1974–1975)
The main theme from 3 for the Money was used as a masquerading cue.
Episode status
[
]
1950s & 1960s
[
]
Five episodes exist. Three exist among traders and are from 1955, 1957 and 1959 (Donald, Bracken, and Parks respectively). The 1955 episode features George DeWitt (then hosting Name That Tune) as a guest.
The UCLA Film and Television Archive holds episodes dated October 6, 1954 and May 5, 1955 (the latter also in the trading circuit).[1]
1970s
[
]
One episode is known to exist – a studio master taped July 10, 1974 featuring Allen Ludden as a guest; the UCLA Archive lists an episode dated July 9, 1974.
Gallery
[
]
Press Releases (70's era)
[
]
Tickets
[
]
Merchandise
[
]
A Board Game based on the original 1952–1960 version was released by Bettye-B in 1955.
Taping Locations
[
]
New York City, NY (1950s)
Los Angeles, CA (1970s)
Trivia
[
]
This was Richard Dawson's second game show, his first was Lucky Pair from 1970 until 1971. After the revival's demise in 1975, he would later host the legendary Family Feud from 1976 until 1985 and from 1994 until 1995.
30 episodes were produced of the Dawson version.
The concept of celebrities in disguise was later reused in the late Dick Clark's two NBC specials called Friday Night Surprise. It was then reused again in the early 90s in a revival of the Bloopers series called Super Bloopers & New Practical Jokes which Clark hosted alongside Ed McMahon.
YouTube Links
[
]
Full Episode of the 50s version
Intro of the '57 version
Intro to the 1970s version
Who is this famous judge?
Who is Harpo Marx?