Host
Chris Leary
Co-Host
Lisa Dergan
Judges
Steve Garvey
Oksana Baiul
Johnny Mosley
Broadcast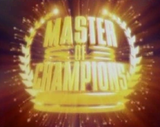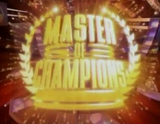 ABC: 6/22/2006 – 7/20/2006
Packagers
Nippon Television
Y27 Entertainment
Master of Champions was an ill-fated, one-hour weekly game show competition where only one contestant has unique skills, passion and determination sufficient to win the ultimate title of "Master of Champions".
Gameplay
[
]
Each week, the six contestants compete in unusual skills two at a time. If they compete in the same skill, the one that performed the best is the winner; if they have different skills, the studio audience decides the winner. At the end of the show, the three celebrity judges (Steve Garvey, Oksana Baiul and Jonny Moseley) decide which of the three winners is given the title of "Master of Champions" and a trophy that is added to the "Wall of Masters".
Trivia
[
]
The show's format is based on a Japanese format that aired on Nippon Television (NTV) called World Records.
In an episode that was unaired on ABC, two members of the Harlem Wizards basketball team appeared to do basketball tricks. and Trevor Snowden a paraplegic mountain bike rider, did tricks on a four-wheel bike.
Only six out of the original seven episodes have made it to air before ABC decided to pull the plug on the show.
Rating
[
]

Link
[
]