Host
Art James
Announcers
Dave Michael
Bob McClain
Broadcast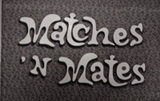 Syndication: 3/20/1967 – 9/1968
Packager
Nicholas-Muir Productions for 20th Century Fox Television
Matches 'n Mates was a short-lived, word game in which two husband-and-wife teams attempted to match questions to answers in order to reveal letters of a mystery word (called the "Hidden Item") for prizes.
Gameplay
[
]
Two married couples competed and each in turn called out a letter between "A" and "I" to hear a statements (ex: "to paint a fence you would use..."). They tried to find the answer on a board which contained twelve answers. One mate called for the statement while the other tried to find the answer on the statement by randomly calling a number. If the answer matched the statement, a letter or blank space was revealed and placed on the hidden item board. Hidden items had a maximum of nine letters and the first team to identify three hidden items won the game and a bonus prize.
Trivia
[
]
The show was taped at both WJW-TV in Cleveland, Ohio and WAGA-TV in Atlanta, Georgia; somewhat ironically, the show was distributed by 20th Century Fox Television, and Fox would end up owning both stations by 1997 (both were owned by Storer Communications, which underwent several buyouts before landing in the hands of New World Entertainment, which switched both stations to Fox in 1994 (as a result of Fox taking over broadcast rights to the NFL) and was then bought by Fox's parent News Corp. in 1997 (WAGA remains owned by Fox, while WJW has since been sold to what is currently Nexstar Media Group)).
Over 130 episodes were taped before ending its run in 1968.
Rating
[
]

YouTube Link
[
]