Host
Ted Brown
Announcer
Roger Tuttle
Broadcast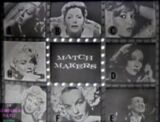 Unsold Pilot for NBC Daytime: 12/1960
Packager
Allan Sherman Productions
"MATCHMAKERS! It's the new television game that's smart to play and fun to see! Brought to you by the makers of New Pink Jazz! The newest, pinkiest and jazziest products you can buy! And starring your talented matchmaker, Ted Brown!"
Matchmakers was an unsold game show in which two contestants had to match pictures on their board with ones on their opponent's board. The first player to score five points won the game and a prize package.
Trivia
[
]
The show was "sponsored" by New Pink Jazz, with the commercial spots featuring Audrey Meadows, Jayne Meadows, and Charley Weaver each touting a different use for the product.
Departing contestants are said to receive a supply of New Pink Jazz and a copy of the show's home game. While Ted shows off a box for the latter, it's likely that it never really existed either.
YouTube Videos
[
]