Broadcast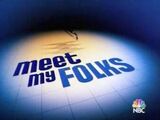 NBC: 7/22/2002-8/25/2003
Packager
Nash Entertainment
Meet My Folks was a short-lived reality television series where a man must seek the approval of the girlfriend's demanding parents before proposing.
Premise
[
]
On the show three bachelors spend three days with the possible "woman of their dreams" and her family in thier home, with conversations and interactions intended to reveal the bachelors' character and intentions. The winner gets a week in Hawaii with "Miss Right", if of course her family approves.
Rating
[
]

Trivia
[
]
The series was apparently inspired by (but has no direct connection to) the 2000 comedy film Meet The Parents. One of the film's best-known elements, a lie detector test, is also prominently in the series. The film's producers, Universal Studios (now under common ownership with NBC), had at one point considered legal action over the program, specifically the title and the lie detector segment, but this did not come to fruition.
MyNetwork TV aired the show in reruns for a brief period from 2007-2008.
Local versions of the show have aired in other countries since 2000.
In season 2, veteran game show host Wink Martindale appeared in one episode of the series.
See Also
[
]
Who Wants to Marry My Dad? - this show feature their grown children (mainly daughters) pick out a new bride for their father to propose and marry (this also featured a lie detector as well) packaged by the same producer (Nash Entertainment) also aired on NBC for two seasons from 2003 until 2004.
Links
[
]
Official Website (via Internet Archive)
Official Website 2003 (via Internet Archive)
Official website (courtesy of Nash Entertainment)