Host/Bacherlorette
Megan Hauserman
Broadcast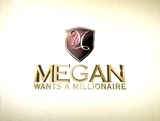 VH1: 8/2/2009 – 8/16/2009
Packager
51 Minds Entertainment
Megan Wants a Millionaire was a short-lived reality dating show in which Megan Hauserman has eighteen wealthy single men competing for her love after failing to find true love on Rock of Love 2 with Bret Michaels and failing to win money on I Love Money.
Premise
[
]
Hauserman's seventeen millionaire suitors will compete in challenges ranging from going head to head in a high roller Las Vegas tournament to shelling out money in date auction. Whoever wins the challenge will win a date with Megan. But it won't just be any date. The millionaires will be given the chance to "upgrade" their date. How about driving Megan to dinner in an Ashton Martin instead of an Escalade? or why not take a helicopter ride to Catalina Island instead of a ferry? One by one, Megan will eliminate the guys who can't shell out the dough, until the ultimate millionaire is left.
Trivia
[
]
The series was cancelled on August 19, 2009 due to the involvement of contestant Ryan Jenkins on murdering his former wife Jasmine Fiore and later committing suicide. At the same time, VH1 released a press statement regarding the situation:
"Ryan Jenkins was a contestant on Megan Wants a Millionaire, an outside production, produced and owned by 51 Minds, that is licensed to VH1. The show completed production at the end of March. Given the unfortunate circumstances, VH1 has postponed any future airings. This is a tragic situation and our thoughts go out to the victim's family".
Videos
[
]
Megan Wants a Millionaire Playlist (YouTube)
Megan Wants a Millionaire (archive.org)
Link
[
]