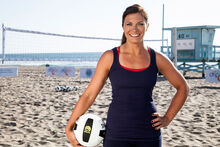 Misty Elizabeth May-Treanor (born July 30, 1977) is a retired American professional beach volleyball player. She is a three-time Olympic gold medalist, and as of August 2012, the most successful female beach volleyball player with 112 individual championship wins in domestic and international competition.[1]
Misty May-Treanor and teammate Kerri Walsh Jennings were gold medalists in beach volleyball at the 2004, 2008 and 2012 Summer Olympics. They also won the FIVB Beach Volleyball World Championships in 2003, 2005 and 2007. They have been called "the greatest beach volleyball team of all time."[2][3][4][5]
May-Treanor retired from competitive play on August 8, 2012 after she and Walsh Jennings finished first in the 2012 Summer Olympic games.[2][3] She was inducted into the Volleyball Hall of Fame in 2016.