Hosts
Mark Richards
Rita Whitfield
Tony Lyons
Sherry Page
Broadcast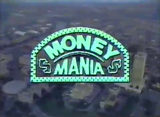 TNN: 10/16?/1986 - 12/31/1986
Packager
Media Arts International
Money Mania was a short-lived late night interactive game show that gives out cash to home viewers who can win instantly. The show aired live for six hours every night.
Premise
[
]
Viewers received playing cards in the mail and the hosts read off numbers and letters that are picked at random. But instead of bingo, the entire card must be filled in before you win. Along with the help of a sophisticated computer program, a sign flashes on the screen by giving that person 10 minutes to call and claim a minimum of $500. If nobody calls, the money is added to the jackpot in the next game.
Trivia
[
]
Money Mania was created and produced by Ray Lindstrom.
Per Lindstrom, the show's goal was to get viewers to buy products through International Catalog Clearinghouse. This ended up backfiring, however: between the giveaways and production costs, they lost $2,000,000.
Links
[
]
Ray Lindstrom's "All That Business" page, including info on Money Mania