Host
Dick Van Dyke
Announcer
Bill Brophy
Assistants
Betty Andrews & Dotty Mack
Broadcast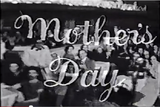 ABC Daytime: 10/13/1958 – 1/2/1959
Packager
Shamrock Productions
"Mother's Day! Featuring the greatest experts of all, the American mother. Brought to you today by (insert sponsors). And now, here's our host, Dick Van Dyke!"
Mother's Day was a short-lived game show which featured three mothers, selected by their husbands, children, friends, and neighbors, competing for the title of "Mother of the Day".
Gameplay
[
]
Broadcast from the Latin Quarter in New York City, the show tested the homemaking skills of the mothers in four rounds. The player scoring the greatest number of points won a mink coat and other merchandise prizes.
Among the skills tested were the ability to pick a hard-boiled egg from among four possibilities, the ability to memorize a list of six items and then recall the items when asked about them, and the ability to choose a four-pound steak from among six steaks.
YouTube Video
[
]