Host
William August as. N. Paul Todd
Cast
Jamie Denbo
David Jahn
Tamara Clatterbuck
Kent Sublette
Broadcast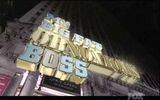 FOX: 11/7/2004-12/12/2004
Packager
Rocket Science Laboratories
Distributor
20th Century Fox Television
My Big Fat Obnoxious Boss was a spinoff of My Big Fat Obnoxious Fiance. This show also included some elements from The Apprentice.
Gameplay
[
]
This game was a parody of Apprentice. The contestants performed several tasks that they were told would help them win a job at the Chicago-based conglomerate IOCOR and a $250,000 prize. However, the contestants did not know that the company - and the position - were fake.
The show was usually punctuated by the actions of the "boss" 'Mr. N. Paul Todd' (an anagram of 'Donald Trump'). The contestants learn about his multi-billion-dollar venture capital firm IOCOR, and in any episode, he or a member of his 'family' could usually be found doing something to unsettle the contestants or to test the limit of their blindness to truth. The contestants were split into teams, with a team boss immune from elimination. The teams would then compete in a challenge to determine which would be eliminated. Some of the tasks endured by the contestants included selling hot soup on a hot day, creating and selling art they made out of scraps, and selling other ridiculous products. The members of the losing team met Mr. Todd in the boardroom on the next day, where he derided their performance. The team boss nominated two teammates for elimination—because Mr. Todd explained in real life the boss is never held responsible. The player not eliminated became the team boss, and the winning team named a new team boss.The audience would then see N. Paul Todd referring to 'the real boss' for the decision on who was to go. The real boss was not seen or heard until the final episode, and was kept a complete secret from the contestants. The official website suggested that the real boss could be Donald Trump's ex-wife Ivana Trump or Oprah Winfrey, although David Hickman did refer to the boss as a 'him'. The real boss gave no reason for the decision, so Todd was given free rein to make it up as he went along.
International Versions
[
]
Here are some other countries where this show aired:
Canada
United Kingdom
Singapore
Australia
Taglines
[
]
"The con is on! Twelve Ivy League hot shots will humiliate and embarrass themselves... Competing for a dream job that doesn't exist!"
"A new con is on!"
"We told twelve Ivy League hot shots that they could all compete for the dream job of a life time... and they bought it!"