Host/Announcer
Bob Saget
Broadcast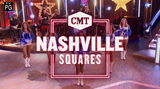 CMT: 11/1/2019-11/29/2019
Packagers
Jesse Collins Entertainment
Next Entertainment
CBS Television Distribution
"Welcome to CMT's NASHVILLE SQUARES! Let's play something country! Tonight, (insert situation), we got (insert celebrity), squaring off with (insert celebrity)! But first, let's meet the squares: (insert made-up titles and celebrity names), and in the center square, (insert made-up title and celebrity name)! And now, your host, ME!"
Nashville Squares was a short-lived spin-off of the venerable Hollywood Squares as well as the VH1 version of Hip Hop Squares, but this version focuses more on country music.
Gameplay
[
]
Similar to Hip Hop Squares (2017 version), two country music celebrities compete to win money for their fans in the studio audience. The game itself is also played similar to Hip Hop Squares (again 2017 version), with the first game worth $1,000, the second game worth $2,000, and the amounts in each square ranging from $500 - $900 in Round 1 and $500 - $1,000 in Round 2, and the Secret Square (renamed the "Hidden Square" here) is always featured in the first game.
The star with the most money when a sounder alerts that time in the entire game is up wins the game and plays the bonus round with their designated audience member for double the cash and a new car.
Bonus Round: Start Your Engine
[
]
This bonus is a variation on the classic "turn the key and win the car game" seen in previous versions.
The nine squares each have keys, one of which activates the 2019 Jeep Compass. The winning fan selects a star to try his/her key with and then a question previously posed to the entire panel before the show is asked. It is always a "which of your fellow squares do you think is most likely to"-typed question. To make it easy, Bob would narrow the field down to three stars all in a tic-tac-toe pattern. The winning fan would then pick the star s/he thinks the chosen star chose. A correct decision doubles the cash, but an incorrect decision won nothing extra. Either way, the winning fan tries the key s/he chose and if it works, the car is his/hers.
Gallery
[
]
House Band & Dancers
[
]
XO Band
Dallas Cowboys Cheerleaders
Reference
[
]
CMT Orders Nashville Version of 'Hollywood Squares' (Exclusive)
HS Related Shows
[
]
Hollywood Squares - The one that started it all.
Storybook Squares - A short-lived children version that aired on NBC in 1969 and in syndication from 1976 until 1977.
The Match Game-Hollywood Squares Hour - A short-lived fused version that aired on NBC from 1983 until 1984.
E! True Hollywood Story: Hollywood Squares - A documented episode that aired on E! in 2005.
Hip Hop Squares - A hip-hop/rap musical themed version that aired on MTV2 in 2012 and on VH1 in 2017 until 2019.
Link
[
]