Hosts/Commentators
Ali Nejad & Matt Vasgersian
Broadcast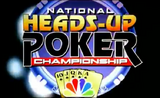 NBC: 2005-2011
National Heads Up Poker Championship was a championship poker game show.
Gameplay
[
]
This game was a $20,000 "buy-in" invitation-only tournament organized as a series of one-on-one games of Texas hold 'em matches. The participants include many of the world's most successful poker players, as well as celebrities. The single-elimination tournament is modeled after college basketball tournaments. Players who win a match advance to the next round; the player who wins six matches is crowned champion.
The first round is seeded randomly the night before the tournament begins. Players are divided into four brackets – Clubs, Diamonds, Hearts, and Spades. A participant advances by winning a heads-up match against his or her randomly drawn opponent. The structure of the brackets then determines every match thereafter. The semifinals consist of one player from each bracket, with the winner of the Spades bracket playing the winner of the Clubs bracket, and the winner of the Hearts bracket matched up against the winner of the Diamonds bracket. A best-of-three final match then determines which of the two finalists is crowned champion.
Trivia
[
]
The first season was taped at Golden Nugget in Las Vegas. The remaining seasons were taped at Caesars Palace. 
This was the first ever championship poker event to be released on television and produced by a major television network (NBC).