Host
Mike O'Malley (1990s)
Broadcast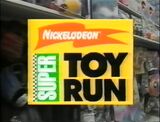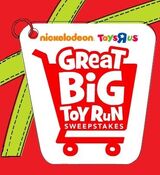 Nickelodeon: 1986-1999, 2010-2018
Nickelodeon Super Toy Run was a kids spinoff of Supermarket Sweep but kids had 5 minutes to grab toys they could get their hands on. The contest was held at a Toys R Us store.
Sponsors
[
]
Kay-Bee Toy Stores (1980s; the company later was known as K-B)
Toys R Us
Burger King
General Mills
McDonald's
KFC
Hasbro
SEGA
Friendly's
Nickelodeon
Rating
[
]

Trivia
[
]
In 2010, the Super Toy Run got changed to the Great Big Toy Run.
YouTube Links
[
]
1993 Super Toy Run
1994 Super Toy Run
1995 Super Toy Run Go to 3:50
Great Big Toy Run 2013