Host
Jeff Marder
Announcer
Luann Lee
Broadcast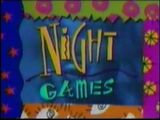 CBS: 10/14/1991 – 6/12/1992
Packagers
The Kushner-Locke Company
CBS Entertainment Productions
"Turn off the light, and turn on the night! There's nowhere to be, but here, you're tuned into NIGHT GAMES, a late-night party, where single girls and guys go really big, by telling it like it really is! IT'S NIGHT GAMES! And here's the man who (insert funny comment), JEFF MARDER!"
Night Games was a short-lived, late-night dating game show where contestants found out how much they liked each other's answers to questions.
Six contestants (three men & three women) scored each other based on how much they liked the other's answers. Also they matched up with their ideal date using their own bios without knowing who's is which.
At the beginning of the game, during the contestant introductions, the home audience was shown three items representing their bios.
Host Marder asked questions to each of the contestants to learn about their thoughts, opinions & attitudes about the opposite sex, dating & relationships. After one contestant gave an answer, the three members of the opposite sex locked in their rating on a scale of 1 to 10 points with their scoring keypads.
This round had the contestants be asked more personal questions, and again their answers were rated as to how likable their answers were. This time the members of the opposite sex locked in their rating on a scale of 1 to 20 points.
---
The man and the woman with the most points at the end of the two rounds received dinner at a local restaurant. (Ties were broken with a "draw sticks" game.) And if the winning couple chose each other prior to the show, they also won a dream date vacation.
This was one of two short-lived shows hosted by Jeff Marder; the other one was A Perfect Score.

Studio 42, CBS Television City, Los Angeles, California
Scott Harper
"This is Jeff Marder, saying that there's got to be a morning, after in the middle of tonight!"
The Games of Love Page: Night Games
Full Episode
Community content is available under
CC-BY-SA
unless otherwise noted.