Host
Mike Rowe
Announcer
Jennifer Martin
Broadcast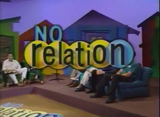 FX: 8/12/1996 – 2/8/1998
Packager
Dick Clark Productions
"These five people, all claim to be members of the (insert name of the clan) family, but one of them is not telling the truth. It's the game that ask you to decide which member of a close-knit clan is actually a relative stranger, NO REALATION! And now, here's the host of our show, Mike Rowe!"
No Relation was a short-lived guessing game show where three celebrity panelists try to guess which member of a family of five related people is actually an impostor.
Premise
[
]
Three celebrity panelists tried to guess which member of a family of five was really an impostor. Prior to the show, the impostor was briefed by the family with the real fifth member.
The game consisted of two rounds of questioning. In the first round, each panelist had 30 seconds to question each family member individually. During each family member's turn, the other four would be in isolation so they couldn't hear the questioning.
The second round had the entire family on-stage. In this round the panelists each had 45 seconds to question the family members about each other. At the end of the round each panelist decided on who the impostor was; each stumped panelist won the family a prize that was attached to them, and if they stumped the entire panel, they also won a grand prize vacation.
Rating
[
]

Studio
[
]
CBS Television City, Los Angeles, CA
Trivia
[
]
Host Mike Rowe competed as a contestant on The CNN Quiz Show: TV Edition where he was teamed up with fellow CNN anchor Brooke Baldwin playing for The mikeroweWORKS Foundation in 2015.
Gallery
[
]
YouTube Video
[
]
Ryan on the short lived game show "No Relation" in 1996 hosted by Mike Rowe