Host/Bachelor
Chad Ochocinco
Ochocinco's Best Friends
Bernard "B Twice" Berrian
Terrell "T.O." Owens
Broadcast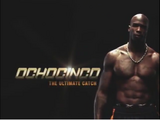 VH1: 7/11/2010-9/5/2010
Packagers
51 Minds Entertainment
Juma Entertainment
Ochocinco: The Ultimate Catch was a short-lived reality dating show starring NFL wide receiver Chad Ochocinco (who has since reverted his name to Chad Johnson) along with 85 women to choose from to find true love.
Premise
[
]
The women on the show will be put in a head to head competitive dating tournament. Just like in football, before you make the team you have to prove you rank high enough to make the roster. So before, these woman gets a chance to play in Ocho's tournament they are going to have to show him and a few of his NFL colleagues what they're made of in a mini tryout camp. The competition to make his roster is going to be tough because he's not settling for second string and to guarantee that, he's starting with something's we've never seen before - 85 GIRLS! The 85 hopefuls will be put through Ocho's "dating training camp" and will be cut if they aren't the type of girl he can't see himself with. He will evaluate all 85 girls' performances where only 20 will make the team. The 20 girls on the team will date Ocho in "The Ultimate Catch".
Dating in Ocho's tournament will follow a bracket style competition. The girls will be ranked by Ocho in the first episode after he's had a chance to spend some time with them. The girls are "matched up" based on their ranking and will competitively date based on those "matchups". At the end of each episode the winners from each "matchup" will receive a "game ball" from Ocho and move on to the next round of the tournament and the loser will be sent home. In the end, the championship date between the remaining women will result in Ochocinco awarding his girl the coveted Championship Ring and his heart.
Link
[
]