Hosts
Win Elliot (1953–October 1954)
Dennis James (October 1954–1956)
Announcers
Bob Warren
Bill Rogers
Bob Dixon
Broadcast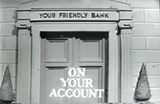 NBC Daytime: 6/8/1953 – 7/2/1954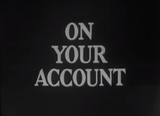 CBS Daytime: 7/5/1954 – 3/30/1956
Packager
Proctor & Gamble Productions
NBC INTRO:
"Tide in, dirt out! Nothing else will wash as clean as Tide, yet as so mild. Now, Tide brings you money, suspense, friendship, on deposit, now On Your Account, and here at the friendly bank to help out with your hopes, your happiness, to hand out dollars in a once-in-a-lifetime thrills to you and your neighbors, your host, Win Elliot!"
CBS INTRO:
"Tide in, dirt out! Nothing else will wash as clean as Tide, yet as so mild. Now, Tide bring you a deadline full of drama and hope, a day marked on the calendar, a crisis to be met. Tiny clothes to tell a great big story, a smiling daddy bringing smiles to you. A cut out pic of Miss Venus herself, you'll see who fills it, as a sweet love story comes true. Three symbols, three stories, all brought here today… ON YOUR ACCOUNT! Welcome to On Your Account. Welcome to the fun, suspense, and the thrills of watching your neighbors win all the happiness they deserve. And now, to greet them, and to greet you, is our host, Win Elliot/Dennis James!"
On Your Account was a daytime quizzer where players answered questions to win money for charity or a deserving individual.
When the show began its run, contestants came on the show to earn money for a charitable purpose (for example, a man wanted to reward an anonymous girl who returned his misplaced wallet). After discussing their charity, the player started with $40 and went to the "safe deposit vaults", which contained questions worth anywhere from $10 to $40 in $10 increments, with four questions for each amount; the higher the dollar value, the more difficult the questions. One question featured a hidden bonus which awarded a $1,500 prize package if answered correctly. An incorrect answer on the bonus question still awarded that value, as it was usually more difficult than a normal question for it. At the end of the show, the studio audience selected one of the day's contestants, and that player's charity received a bonus of $100. In Fall 1954, only servicemen could play.
In 1954 or 1955, during the CBS run, the format changed: three contestants each began with $50, then picked questions worth $25 to $100, at the end of the show, the player with the most money answered a final question for the $1,500 prize package.
Hudson Theater, New York City, NY (NBC Run)
CBS Studio 60, New York City, NY (CBS Run)
A full NBC episode from 1953
A full CBS episode from July 7, 1954
Community content is available under
CC-BY-SA
unless otherwise noted.