Hosts
Drew Carey (2003)
Damon Wayans (2004)
Co-Hosts
Holly Robinson-Peete & Jamie Kennedy (2003)
Tom Bergeron (2004)
Broadcast
The WB: 9/14/2003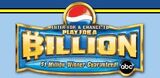 ABC: 9/12/2004
Packager
Diplomatic Productions
Pepsi's Play for a Billion was a special where the winners of a promotion from Pepsi would have a chance to win $1,000,000 and then have a chance to win a billion.
Gameplay
[
]
Pre-game
[
]
The winners of the promotion each chose a 6-digit number. Through use of a computerized system no two players had the same number.
Meanwhile, under tight security the $1,000,000,000 number was randomly chosen under the supervision of executives from both Pepsi and the network. One person would roll a 10-sided die. Once both executives confirmed the number rolled, a billiard pool marked with said number was placed into a bag. This continued until all six digits had been determined. Thereafter, a chimpanzee named "Mr. Moneybags" would randomly draw the six digits to determine the order.
Main Game (ABC version)
[
]
The ten players closest to the $1,000,000,000 number were called up on stage. In each round a cash offer was made to the group. The offers started at $20,000 and grew by $10,000 in each round (culminating with a $100,000 offer in the final round). The players were given time to consider it, and if a player buzzed in, they would leave with the money offered and forfeit their number to another player of their choice. If no one accepted the offer, the player who was furthest away would leave the game with nothing. The last player left standing won $1,000,000 and played for $1,000,000,000.
Bonus Round
[
]
For the billion dollar round, the contestant number was compared with the billion dollar number digit by digit. If all six digits matched, the contestant won $1,000,000,000; otherwise they would keep the million won earlier.
With PepsiCo unwilling to bear the risk of a potential billion dollar prize, they made arrangement with Berkshire Hathaway to insure the prize at a $10 million premium.
Had any contestant won the billion dollar prize, it would be paid in an annuity at $5,000,000 at year for 20 years, $10,000,000 a year for the next 19 years and $710,000,000 to be paid out in year 40. Or the contestant could opt for a lump sum payment of $250,000,000. The $1,000,000 prize was paid in a lump sum.
To date, the $1,000,000,000 prize is the largest prize ever offered on a U.S. game show of any kind (this includes lottery shows and specials).
Gallery
[
]
Set Pics (WB era)
[
]
Videos
[
]
Promos
[
]
Trivia
[
]
This is the first game show to be sponsored by the soda brand, the second is Cherries Wild hosted by Jason Biggs on FOX in 2021.