Host
Jerry O'Connell
Announcer
Jamie Anderson
Broadcast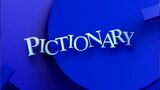 FOX O&O's: 7/12/2021 - 7/30/2021
Syndication: Fall 2022-present
Packagers
Mattel Television
Otter Creek Productions
Distributor
CBS Media Ventures
"Can you guess what this is? If you can, then you'll be a great contestant on PICTIONARY! Our first celebrity captain is (insert name) and with him/her our (insert contestant) & his/her (insert contestant) our other celebrity captain (insert name) he/she is joined by (insert contestant) & (insert contestant). And now, here is your host, Jerry O'Connell."
A new version of Pictionary premiered on select FOX stations Monday, July 12, 2021, to see if it is worthy of a fall release in 2022, which has been confirmed.[1][2]
Gameplay
[
]
Two teams of three, consisting of one celebrity and two contestants, compete.
Round 1 - Quick Draw
[
]
Three pictures are drawn, starting at 500 points and decreasing by 100 every two seconds. If a team buzzes in and guesses it wrong, the opponents get a chance to steal the points.
Round 2 - Sketch or Steal
[
]
A category is revealed, and each team member has 15 seconds to draw something related to the category. A correct guess earns 100 points, but if time runs out, the opponents get to guess for the 100 points. After all six players draw, the points double.
Round 3 - Choose Your Words
[
]
Each team is given five words, and must select the three they feel are the hardest of the five for their opponents. Each opposing team member has 60 seconds to get their partners to say those words, with each one worth 1,000 points.
The team with the highest score wins. The losing civilian partners each get a consolation prize.
Final Draw
[
]
One of the civilian players is shown five words, and must select three for their partners (now including the celebrity from the losing team) to guess. They have 45 seconds and if stuck can pass and come back. The first two words are worth $1,000 each, and guessing all three wins the civilian players the $2,000 and a trip.
Gallery
[
]
Spin-Offs
[
]
1989 version
1997 version
2000 Version
Reference
[
]
Links
[
]