Host
Ken Ober
Announcer
John Leader
Broadcast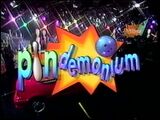 Unsold Pilots for Daily Syndication: 1992
Packager
Brad Lachman Productions
Distributor
MCA Television
Pindemonium is an unsold show where two married couples competed in a cross between The Newlywed Game and Bowling for Dollars.
Gameplay
[
]
Round 1
[
]
In the first round, each team would play three frames of bowling, rather than the standard 10. One teammate rolled a ball, with each pin worth one point. If any pins were left standing after the first roll, the couple could earn a second roll by answering a question about each other, such as "How long does it take for him to fall asleep after doing the 'wild thing'-- five minutes, a half-hour, or 30 seconds?" If correct, they earned the roll.
Round 2 - Catch-Up Round
[
]
After each couple played three frames of bowling, a second round was played--the Catch-Up Round. The trailing team went first, being asked up to five questions about each other. Each match increased the value of the pins by a point. The standard pins were replaced by colorful design ones, worth from 1-5 points depending on how well a couple did in the first part of the round--though they only got one roll; and that roll could be worth up to 50 points. If they caught up, the opposing team would have another chance to win the game. After the round ended, the couple with the most points won the game, $500 and a chance to bowl against the "Pinheads."
Bonus Round - Pinheads
[
]
In the bonus round, the winning couple chose three pins (from ten), each with a crudely-drawn picture of a celebrity's head on it. Attached to the pin was a prize and a number to determine what position the pin was set at the end of the lane. For every pin knocked down, they won a prize, but if all three were knocked down, not only were all three prizes won, they also won a new car (in this case, a Geo Metro convertible).
Music
[
]
House Band - The Alley Cats
Inventor
[
]
Jim Cahill
Taping Location
[
]
NBC Studios, Burbank, CA
Trivia
[
]
Pindemonium was created by Jim Cahill under the title of "Pinheads", with a format described by him as "Bowling for Dollars meets celebrity pinheads".
Disney showed brief inrerest in the format, but turned it down. Universal, the second company to option the show, greenlit the production of two pilots.
To Cahill's dismay, Universal changed the show's title, added relationship questions (in response to the popularity of Studs), and added a house band.
While Pindemonium was piloted for the 1992-93 season, Universal instead turned its focus toward pitching a talk show hosted by Kitty Kelley, though it does not appear to have sold either.
YouTube Link
[
]