Host
Cameron Daddo
Broadcast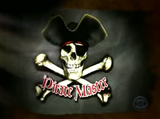 CBS: 5/31/2007 - 7/17/2007
Packagers
Mark Burnett Productions
Pirate Master was a short-lived realty competition series that features sixteen contestants competing as real-life pirates on a quest for gold.
Premise
[
]
Each week, the pirates will embark on an extraordinary expeditions where they will decipher clues along the way in search of missing treasure. Gold coins - real money which the pirates may take with them beyond the show will be awarded after each expedition, but only to some. The gold will play a key role as pirates strike deals with each other or plead for long-term security. In addition to claiming the lion's share of the week's riches, one pirate will become the captain of the ship and will assign roles and chores to the remaining crew members, setting the tone for either law and order or betrayal and sabotage, which could lead to munity by the crew. Each episode will conclude on the ship at Pirate's Court, a lively gathering of public speaking and judgement where one individual will be eliminated and "cut adrift". In the end, one will be the first to find the largest booty worth $500,000 and claim the title of "Pirate Master".
Series Results
[
]
16th Place - John Lakness
15th Place - Christian Okoye
14th Place - Alexis Shubin
13th Place - Cheryl Kosewicz
12th Place - Sean Twomey
11th Place - Joy McElveen
10th Place - Joe Don "J.D." Morton
9th Place - Elicia "Jupiter" Mendoza
8th Place - Azmyth Kaminski
7th Place - Nessa Nemir
6th Place - Kendra Guffey
5th Place - Laurel Schmidt
4th Place - Louie Frase
3rd Place - Jay Hatkow
Runner-Up - Christa DeAngelo
Winner (Pirate Master) - Ben Fagan
Trivia
[
]
Due to bad rating, the remaining episodes aired on CBS Innertube.
On July 27, 2007; Cheryl Kosewicz, the fourth contestant to be eliminated from the show was found dead inside her home after an apparent suicide attempt. The show paid respects to her death in the final episode with a brief black screen dedication message before the credits. On fellow contestant Nessa's MySpace webpage, Kosewicz blamed the show for causing friction between herself and her boyfriend who committed suicide two months prior.
Azmyth Kaminski appeared at the beginning of the 2007 film Pirates of the Carribbean: At World's End.
Link
[
]