Hosts
Jack Smith (July–November 1953)
Jack Bailey (December 1953 – January 1954)
Bill Cullen (January 1954–1955)
Announcers
Jack Narz
Bob Warren
Broadcast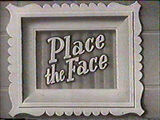 NBC Primetime: 7/2/1953 – 8/20/1953, 9/18/1954 – 12/25/1954, 6/28/1955 – 9/13/1955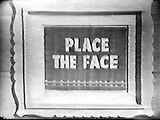 CBS Primetime: 8/27/1953 – 8/26/1954
Packager
Ralph Edwards Productions (Target Productions)
"Can you place the face this busy artist is sketching? It's lovely Joanne Gilbert, Hollywood's newest singing and dancing sensation! And, oh, the artist, will you turn around, sir, so that we can place your face? Why, it's the rhumba king, Xavier Cugat! But will they be able to place faces from their past? We'll find out right now on Place the Face! Yes, the spring of the curl proves it's a Prom! The easy, new, self-neutralizing! Home permanent and White Rain! The wonderful new lotion shampoo that leaves you hair sunshine bright present Place the Face, starring Bill Cullen!"
Place the Face was a panel question game show. It was a spinoff of This is Your Life.
Gameplay
[
]
At first, civilians were invited to be contestants, but by the time Bill Cullen became the host, most of the players were celebrities. They would be introduced to a person in a picture frame; this person was an important face from their past, perhaps a former teacher, a police officer who had given the contestant a ticket, or the person next to the contestant in the graduation line. After the person's name and connection was revealed to the viewers, the contestant had three minutes to identify the face by asking yes/no questions, with the person in the frame providing increasingly specific clues before each minute. Cash and prizes were awarded based on how quickly the contestant had "placed the face".
When celebrities became contestants, the prizes for the civilians were minimized.
Foreign Version
[
]
A British version was piloted for BBC-tv in 1955 hosted by Eamonn Andrews. It was eventually picked up with host by Pete Murray and ran for one series in 1957.
Studios
[
]
NBC Studio D, Hollywood, CA (1953)
Studio 41, CBS Television City, Los Angeles, CA (1953–1954)
El Captain Theater, Los Angeles, CA (1954–1955)
Rating
[
]

Links
[
]
Place the Face at The Bill Cullen Homepage

Video Links
[
]