Host/Judge
Molly Sims
Mentor
Eva Jeanbart-Lorenzotti
Other Judges
Ariel Foxman
Kenneth Cole
Broadcast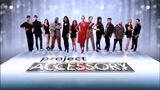 Lifetime: 10/28/2011-12/22/2011
Packagers
The Weinstein Company Television
Addington Productions
Goodbye Pictures
Project Accessory was a short-lived spinoff of Project Runway where twelve designers must create fashion accessories, such as jewelry, belts, bags, shoes and headpieces for the chance to win $100,000 to start their own brand.
Gameplay
[
]
Contestants were given a challenge in which they must create various fashion accessories ranging from Jewlery to handbags and shoes. with restrictions for materials, subject matter and time. One or more contestants were eliminated each episode after appearing before a judging panel.
Spinoffs
[
]
Project Runway - the original version airing on Lifetime (originally Bravo from 2004 until 2008) since 2009.
Project Runway: All-Star Challenge - a two-hour special spinoff that originally aired on Lifetime on August 20, 2009.
Project Runway: All-Stars - another spinoff of the series that also airs on Lifetime since 2012.
Project Runway: Threads - new series also starring Vanessa Simmons also airing on Lifetime in 2014.
Project Runway Latin America - a Spanish-language version originally airing on Fashion TV Latin America in 2010 and currently airing on Glitz* since 2011.
Under the Gunn - new series starring Tim Gunn that airs on Lifetime in 2014.
Project Runway Junior - another spinoff of the series featuring up-and-coming teenage designers (between ages 13 to 17) airing on Lifetime since 2015.
Project Runway: Fashion Startup - a spinoff where fashion and entrepreneurialism are brought to a whole new level airing on Lifetime since 2016.
Link
[
]