Hosts
Ken Roberts (1944–1947)
Win Elliot (1947–1949)
Bill Cullen (1949–1952)
Bobby Sherwood (March–May 1953)
Bud Collyer (May 1953–1954)
Broadcast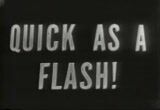 Mutual Radio (Weekly): 7/16/1944 – 12/17/1949
ABC Radio (Daily): 12/12/1949 – 6/29/1951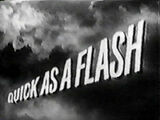 NBC Pilot: 1952
ABC Primetime: 3/12/1953 – 7/2/1953, 9/10/1953 – 2/25/1954
Packagers
Bernard Prockter Productions (1944–1951)
Prockter-Lewis Productions (1952–1953)
Moss and Lewis Productions (1953–1954)
Quick as a Flash was a radio (later TV) game show where players competed to answer questions as quickly as possible.
In this version, six contestants selected from the studio audience competed. The game was played in a series of rounds, referred to as "races" and given names associated with popular racecourses (i.e. "The Belmont", "The Jamaica", etc.). Contestants heard clues to a topic and pressed their buzzers to stop the clues and attempt to answer. A wrong answer eliminated a player from that "race" and the clues continued for the remaining players. The winner of each "race" won $10. The first race was about a current event. The second race was a musical clue provided by Ray Bloch and his orchestra. The third was a history-based question. The fourth one was either on entertainment or literature. The highlight of the show was the fifth race (referred to as the "Sponsor's Handicap"), and was a fully dramatized short mystery play that provided the clues. These plays featured stars of popular detective series, performing as their well known characters.
In this version, two teams, each consisting of consisting of a celebrity and a civilian were presented a play or film based on a person, place, thing or event (e.g.: The stork delivering the Dionne quintuplets). If a player felt they knew the answer at any time, they buzzed in, and if they were right, his/her team would win $25. If a celebrity gave the correct answer, an additional sum of money was given to his/her favorite charity. If a civilian player buzzed in and was wrong, they could try a second time; however, the celebrity players only had one guess per race.
One of the races was a "Pyramid" or "Jackpot" race, which started at $100, and would carry over if nobody answered it during the game.
New York City, NY
From March to July, 1953, the television version was seen on alternate weeks with Personality Puzzle.
A fan-made creation of the show was created in 2014 based on the show's premise using The Sims 2 PC game. It runs for 22 minutes and uses incidental music that reflects the show's era. The show can be seen here.
Quick As A Flash @ The Game Show Pilot Light
Quick As A Flash @ Game Show Utopia
A full episode from September 28, 1950
The full 1952 TV pilot
Community content is available under
CC-BY-SA
unless otherwise noted.