Hosts
Eloise McElhone (1950–1951)
Robin Chandler (1952)
Broadcast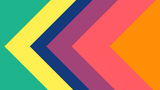 WNBT: 5/27/1950 – 12/27/1951
DuMont Primetime: 1/1/1952 – 12/9/1952
Packager
Kermit Schafer Productions
Quick on the Draw was a short-lived game show where celebrity panelists have to identify sketches drawn by cartoonist Bob Dunn.
Premise
[
]
As mentioned above, the show featured a celebrity panel trying to guess cartoons drawn from ideas sent by home viewers and sketched by cartoonist Bob Dunn. The panel was given clues in the form of puns to help them guess. Examples: a comedian on stage undressing (representing "a newspaper term") would be "comic strip"; a baseball player trying to swing a roll of Venetian blind (representing "a well-known expression") would be "blind as a bat"; and a man putting a tuxedo on a rabbit (representing "an occupation") would be "hair (hare) dresser".
Each week featured a different set of panelists.
Taping Location
[
]
New York City, NY