Host
David Alan Grier
Broadcast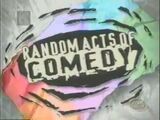 FOX Family Channel: October 8, 1999 to January 1, 2000
Packager
New Star Media Inc.
Random Acts of Comedy was a one-year improvisational comedy game show that used the 3 W's: Who, What, and Where.
Two contestants competed to identify "The Who", "The What", and "The Where" in a scene performed by improv actors. (Example: the actors could be asked to act out Santa Claus (The Who) serving hot dogs (The What) at a Boy Scout meeting (The Where)). None of the actors were informed of "The Who", "The What", or "The Where" of each round prior to the show. As each scene was being performed, the contestants could buzz in and identify any of the three elements of the scene for points. However, just like in Pyramid, should the actors give away any part of one of the subjects, or convey the essence of it, that answer would be thrown out of play, and both players automatically scored.
NOTE: Sometimes, Grier would appear in the scene to provide an additional clue, in case the actors didn't know much about the subject.
The game itself was played in four rounds.
The First Two Rounds
Edit
This round featured one scene, and each correct answer was worth 10 points.
This round featured two scenes, and each correct answer was worth 20 points.
Round 3: Translations
Edit
In this round, the actors would be chosen to act out the scene in a foreign language. Grier would then choose additional actors, and they would translate what the main actors were saying. Correct answers were worth 30 points in this round.
Final Round: Musical Sketch
Edit
For this round, the actors would act out the scene in the form of a musical, the style of which changed every time a player buzzed in. Correct answers in this round were worth 50 points.
---
At the end of the game, the player with the highest score (out of a possible 390) was the winner and received a prize.
Comedy Troupe
Edit
The Improv Actors
Two of the Improv Actors have ties with the Nickelodeon cable network. One of them was Julene Renee; she was one of the cast members of the scripted variety show Roundhouse. The other was Carlos Alazraqui, who voiced the title character of Rocko in Rocko's Modern Life.
YouTube Link
Edit
Community content is available under
CC-BY-SA
unless otherwise noted.