Host/Announcer
Sabrina Jalees
Assistants (The Effectors)
Abbi Collins
Rob Mayor
Adrien Morot Reichel
Shaune Harrison
Eliahe Achkar
Simon Tayler
Andy Antonie
Hassan Aziz
Danny Hargreaves
Nick Porter
Broadcast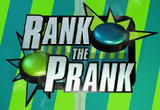 Nickelodeon: 10/24/2016-11/12/2016
Packagers
CBBC Productions
Apartment 11
Rank the Prank was a short-lived hidden-camera game show where what you get when you mix kids' incredible imaginations with super skilled special effects experts. Only the most ultimate prank show ever.
Premise
[
]
In each episode, two teams of prank-loving kids join forces with professional special effects gurus or "effectors" to plan, prep and pull off some truly tricked-out tricks on the unknowing public in a bid to out-prank each other, but the fun doesn't end there. Next, it's up to the panel of kid judges to decided which prank takes the cake. The winning team is given the opportunity to stage an epic prank on their family and friends!
Inventor
[
]
Based on the British-Canadian series of the same name.
Links
[
]
Official Website
Nickelodeon USA To Premiere New Hidden-Camera Game Show "Rank the Prank" Soon; Launches Official Show Website