Host
Joey Adams
Announcer
Hal Simms
Broadcast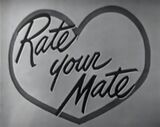 CBS Radio (Weekly): 7/30/1950 – 2/27/1951, 7/7-28/1951
Unsold Pilot for CBS-TV Primetime: 1951
Packager
Mark Goodson-Bill Todman Productions
"Think you know what your wife knows? Think you know what your husband knows? You do? Then lets see how you…Rate Your Mate! Yes, it's Rate Your Mate with Joey Adams, the show where it pays to know how much your mate knows about everything. And here's the man in charge in helping you rate your mate, Joey Adams!"
Rate Your Mate was a radio game show that had an unsold attempt to move to television.
Format
[
]
After interviewing a married couple for a few minutes, Adams would ask which half of the couple would answer the questions. That spouse was placed in a sound-proof booth.
Adams would then read a question to the other half of the couple; instead of answering themselves, however, they had to predict if their spouse would answer it right or wrong. Many questions were general knowledge; others were about their personal interests.
Each correct prediction was worth $25, and each incorrect prediction was worth 25¢. Four questions were played, for a minimum of $1, and a maximum of $100.
Production Location
[
]
New York City, NY
Links
[
]
The full 1951 TV pilot