Hosts/Bachelors
Real (Ahmad Givens) & Chance (Kamal Givens)
Broadcast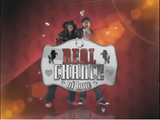 VH1: 10/20/2008 – 10/26/2009
Packager
51 Minds Entertainment
Real Chance of Love (2: Back in the Saddle) was a short-lived two season reality dating show where two brothers named Real and Chance (Ahmad and Kamal Givens) of the rap group "The Stallionares" who are looking for love.
Premise
[
]
In each episode, the ladies will compete in challenges designed to test for the qualities which Real and Chance are looking for in a real woman. The winner will go on dates with her man. At the end of each episode, both Real and Chance will pick which of the girls each of them would like to continue to date and send one woman home broken-hearted.
Trivia
[
]
Originally, the show was brought up in August 2007, when Mr. Boston and Tango of I Love New York were offered to star in their own reality show. However, Mr. Boston declined and the plans fell through.
From September 19 until November 24, 2010, both Real and Chance starred in another of their own short-lived reality show on the same network called Real and Chance: The Legend Hunters, in which they hunted mythical creatures.
On February 21, 2015, Ahmad Givens (a.k.a. Real) died of colon cancer at the age of 33.
Links
[
]
Season 1 site (via Internet Archive)
Season 2 site (via Internet Archive)