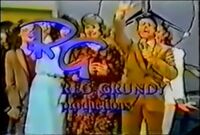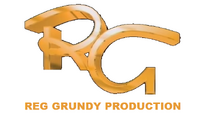 Reg Grundy Productions is the American and British branch of The Reg Grundy Organisation aka Grundy Television formed by Australian TV producer Reginald Roy Grundy as well as Robert Noah & Bill Mason.
The American branch was formed when Reg decided to franchise his successful show Sale of the Century overseas, though Sale was actually a prior American game show having lasted five years from 1969 to 1974 and originally produced by Jones-Howard Productions, the company (minus Jones) that also founded Supermarket Sweep; a UK version was already in vain beginning in 1972. Reg liked the format so much that he purchased it from Jones-Howard and created & produced an early version in 1970 called Great Temptation hosted by Tony Barber. The early version was cancelled in 1976, only to return four years later under its original title and the same host. Then, three years later, the American version which was now based on the Australian version returned to American screens. This version was also a hit and it prompted now executive producer Robert Noah to create a TV version of Scrabble one year later. Then opened the floodgate to creating & producing more TV game shows for the next 13 years, none of which was as successful as Sale (except the 1985 syndicated version) & Scrabble (except the 1993 version). They even produced an American primetime special called Man O Man with Michael Burger, a show that was actually based on a German show of the same name.
The company disbanded in 1997 and is now a part of FremantleMedia (now Fremantle), as is Goodson-Todman Productions.
On May 6, 2016, Reg Grundy passed away at age 92.
Shows Produced
[
]
Show Never Produced
[
]
Shows Related to Grundy
[
]
The Logo
[
]
The logo was actually a modified version of the hand-written logo in Australia. This logo was also shown "across the pond" in England as well as in France on Questions Pour un Champion (Run for the Money/Going for Gold) and in Germany on Ruck Zuck (Bruce Forsyth's Hot Streak) & Hopp oder Top (Sale of the Century).
Sale of the Century
[
]
Scrabble
[
]
Party Line/Bruce Forsyth's Hot Streak
[
]
Time Machine
[
]
Scattergories
[
]
Others
[
]