Starring
Rich Fields
Special Guest Stars
Lou Ferrigno (Episode 1)
Adam West (Episode 2)
Broadcast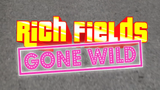 YouTube: 3/9/2009-3/25/2010
Rich Fields Gone Wild is a comedy web series that stars former announcer Rich Fields of The Price is Right getting into some wacky situations in his everyday life.
Descriptions
[
]
Episode 1
[
]
Fields trains very hard with coach Lou Ferrigno (The Incredible Hulk) to become the greatest announcer of all-time. But as a result, he can't turn it off as he drives his wife nuts with it, and as a result, she throws him out of the house.
Episode 2
[
]
Fields, bumps in Adam West (Batman) on the CBS Television City lot in Hollywood, California as he gets into a little bit of trouble with him.
Trivia
[
]
This was to promote the video game called The Price is Right: 2010 Edition for the Wii, DS, PC and iPhone by Ludia.
The title could be a parody of the Joe Francis' franchise Girls Gone Wild.
In the "Behind-the-Scenes" of the first episode, you can see Fields' wife holding The Price is Right: 2010 Edition video game for the Wii.
In episode 2, Fields wears a costume that resembles Robin the boy wonder although with Field's contestants' nametag instead of the "R" also the original 60's batmobile makes a cameo appearance in the episode as well.
Adam West has passed away on June 9, 2017 at the age of 88.
See Also
[
]
The Price is Right
Road to Price
The Price is Right Male Model Search
Perfect Bid: The Contestant Who Knew Too Much
Videos
[
]
PRICE IS RIGHT Rich Fields Gone Wild - Episode 1 with Lou Ferrigno
Behind the Scenes of Episode 1
PRICE IS RIGHT Rich Fields and Adam West Gone Wild