Host
RuPaul
Judges/Deans
Lady Bunny (as "Dean of Drag")
Frank Gatson Jr. (as "Dean of Dance"/season 1 only)
Broadcast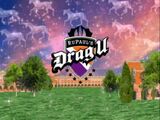 Logo: 7/19/2010-8/6/2012
Packager
World of Wonder Productions
RuPaul's Drag U is a three-season spin-off of RuPaul's Drag Race where former contestants from the original series offer style (and attitude) makeovers to women.
Premise
[
]
In each episode, three women are given drag makeovers and taught to access their "inner divas". Each of these "faux queens" are judged and evaluated on her "Drag Point Average (DPA), "Drag Transformation, Performance and Attitude adjustment". The contestant with the highest DPA wins. RuPaul is the "President" of Drag U. Unlike RuPaul's Drag Race, he does not appear in drag. Regular judges in Season 1 were: "Dean of Drag" Lady Bunny, "Dean of Dance" Frank Gatson Jr.; for Season 2, Lady Bunny returned as "Dean of Drag", and various character choreographers throughout the season as "Deans of Dance". Each episode features one celebrity guest judge, who is usually female.
Trivia
[
]
On May 8, 2013, RuPaul confirmed via Twitter that the series has been cancelled.
See Also
[
]
RuPaul's Drag Race— The original series that's airing on Logo since 2009 until 2016 hen it moved to VH1 since 2017.
RuPaul's Drag Race All Stars - a spinoff of the show that originally aired on Logo from 2012 until 2016 and then on VH1 in its third season since 2018.
RuPaul's Drag Race Holi-Slay Spectacular - a Christmas-themed special that aired on VH1 in 2018.
RuPaul's Secret Celebrity Drag Race - a spinoff that features celebrities from the world of film, music, television and comedy dress in drag for charity that also airs on Vh1 since 2020.
Links
[
]
Official site (Season 1 only)
Official site (Season 2 only)
The Show's Official Twitter Page