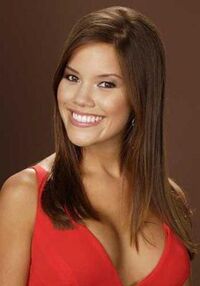 Sara Bronson was born in Chicago, Illinois, and quickly relocated to Calabasas, California at the young age of 2. Bronson knew early in life that she wanted to be an entertainer. Whether she was dancing, singing, or acting, Bronson really just loved to perform.
Bronson always believed in education first. Before Bronson allowed herself to pursue a career in entertainement, Bronson earned a bachelor's degree in communications and entertainment studies from Cal State Fullerton. In college, Bronson was very active, adding musical theater to her long list of hobbies. These hobbies eventually grew into a full-time job.
Anyone lucky enough to spend time with her will tell you she's one of the sweetest, most caring people you will ever meet. Bronson comes from a Chinese, Scottish, and English background. This multicultural heritage has proven to be highly beneficial for her career. Bronson is working as a full-time model and host, and hopes to also pursue a career in acting. Bronson is currently co-hosting Life after Film School, where she interviews some of the industry's top producers and directors. Bronson recently helped DOND host Howie Mandel present the 2006 Emmys and was also a presenter at the Asian Excellence Awards. You might see Bronson in one of her many national commercials or print ads.
Bronson is extremely involved in health and fitness pursuits. Bronson recently hiked to the top of Mt. Whitney in one day. If she's not hiking, swimming, or biking outdoors. you probably find her at the gym. Bronson believes that her secret to health lies in a glutten-free diet. Bronson believes so strongly in this lifestyle that she is excited to be the new spokesperson for Nootri.com, the nutrition company behind her diet. Not only does Bronson loves to eat healthy, but she also knows her way around the kitchen. Bronson loves to cook and create recipes to share with her friends and family.
Bronson continues to seek out new adventures and challenges, for which she's truly blessed to be apart of it.
Shows appeared
Edit
Community content is available under
CC-BY-SA
unless otherwise noted.