Hosts
Ralph Paul (1952-1953)
Bob Kennedy (1953-1954)
Hostess
Peggy O'Hara
Broadcast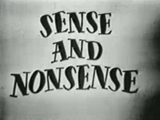 WNBT: 11/24/1952 - 7/3/1953
WABD: 10/5/1953 - 4/2/1954
Sense and Nonsense was a New York-based children's game show that tested the contestants' five senses (sight, sound, smell, taste, and touch).
Premise
[
]
Two teams of three children competed on each show. The object of the game was to identify objects by means of each of the five senses. The teams each played for a specific charity.
The game was played in three rounds, with each child playing once. The players would answer questions about something they saw or heard, or, if they had to identify objects, they would be blindfolded and have to guess the object from one of the other senses. Some tests involved having their noses held by clips, if it was something that was obviously easy to identify by smell.
The tests were played in the following order:
Sight – $5
Sound – $10
Smell – $15
Taste – $20
Touch – $25
Correctly answering a question or being the first to identify an object won the money.
The team with the most money at the end of the third round won the game, and the player who earned the most money for their team would have a chance at opening a door for an increasing cash jackpot.
Trivia
[
]
Bob Kennedy became the show's host on January 5, 1953.
The series aired daily on WNBT and for its first few months on WABD. On January 4, 1954, the show was scaled back to airing on Mondays, Wednesdays, and Fridays.
Leonard Frey was a contestant on the show in February 1954.
Video Links
[
]
Last 20 minutes of an episode from April 29, 1953
A full episode from February 19, 1954