Host
Daphnee Duplaix
Broadcast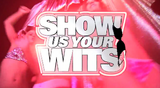 Playboy TV: 1/10/2009 – 3/14/2009
Show Us Your Wits was a short-lived adult-themed game show from the Playboy Channel where unsuspecting male contestants were quizzed on general knowledge trivia questions while being distracted by getting a lap dance from a real-life stripper.
Touted as the first "strip club game show", the series used a similar format like Cash Cab. Whereas unsuspecting contestant (usually male) had to answer rapid-fire questions for monetary prizes, but rather than a taxicab setting, these contestants would enter a lap dance room at the Las Vegas Palomino Club, only to be surprised by host and former Playboy Playmate Daphnee Duplaix. The contestant had to answer her "guy-related" trivia questions (i.e. sports, pop culture etc.) all-the-while getting a lap dance from a real stripper from the club. Each correct answer within two minutes was worth $100, with that amount given to start. A wrong answer took $100 away. At the end of the round, where the contestant was given $100 guaranteed, they could then keep the money or risk it in the "Double or Nothing" round.
Double or Nothing
Edit
This challenge gave the contestants more difficult questions and distractions from two nude real-life strippers as oppose to one. If the contestant could give the correct answer within thirty seconds, the money was doubled. However, they could only give one answer; if they were wrong, or couldn't answer in time, they left the room with nothing.
Host Daphnee Duplaix was a dealer in the 2000 pilot for Card Sharks for which she was later been replaced by Tami Anderson in the 2001–2002 series.
Official Website (WARNING: U.S. Game Shows Wiki Discretion is Advised)
YouTube Link
Edit
Preview Trailer (WARNING U.S. Game Shows Wiki Discretion is Advised)