Host
Tom Bergeron
Announcer
Randi Thomas
News Story Presenter
Steve Edwards
Broadcast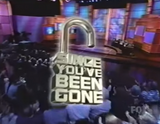 FOX: September 11, 2000
Packagers
LMNO Productions
Granada Entertainment
"THOMAS: Hollywood, California Day 1. Four total strangers cut off from the world for one week no contact with friends or family (insert clip) only one will take the top prize. Will it be Petra?, a broadcast journalism major who missing her first week of school (insert clip) Seth, a day trader who can't live without his cell phone (insert clip). Tiffany, a newlywed spending her first anniversary away from her husband (insert clip) or Michael, a martial arts instructor who's not sure what he's getting himself into (insert clip). Our special agents our taking their phones, their beepers, their watches and electronically searching their bodies for anything they might smuggle in. We're good to go, now its time to hit the road for a location so secret even they don't know where they're going. Their destination: This exclusive sprawling Palm Springs estate, once used by superstars like Marilyn Monroe complete with all the humanities. We've secured the house and our crew is removing every link to the outside world. Magazines, computers, faxes, radios, televisions and telephones. They'll have nothing but themselves for company. The moment of truth has come (insert clip). Will it be seven days in heaven? or a week of pure hell? (insert clip). One of them will win an all expense paid trip for two around the world. Were going to ask them the burning question, What has happened?
PETRA, SETH, TIFFANY & MICHAEL: So what can happen in a week?...
THOMAS:...SINCE YOU'VE BEEN GONE! And now, the man who host Hollywood Squares and our man tonight, ladies and gentlemen, Mr. Tom Bergeron."
Since You've Been Gone was an hour-long special where four people were taken out of society for a week and then were quizzed on current news events that happen during that week for a trip around the world.
Premise
[
]
Four contestants were isolated from any and all sources of news, gossip or current events for one week. At the end of seven days, they were quizzed in 5 rounds on current events and occurrences in their personal lives while they were sequestered. The contestant who most accurately guessed what has transpired during the week won a trip around the world.
In Round 1, five seemingly plausible news items were read, with the contestants guessing whether each was Fact or Fiction; 5 points were awarded for right answers.
In Round 2, 10 points were awarded to a player who could determine which of three news stories presented by newscaster Steve Edwards was true. After that, three 10-point multiple-choice questions were asked.
In Round 3, four multiple-choice questions were asked, worth 15 points each.
Round 4 consisted of another set of stories from Edwards for 20 points, and a non-scoring and time-wasting question involving a friend or family members of one of the players.
The final question, worth one-half of the leader's score, featured an in-studio guest and four stories about that person, one of which was true.
Trivia
[
]
This special aired exactly one year prior to the infamous September 11, 2001 attacks.
The winner of this special was Michael Sydney.
YouTube Video
[
]
Link
[
]