Host/Executive Producer
RuPaul
Mentors
Dutch Bihary
Lawrence "Gear" Duran
Natalie Fletcher
Broadcast (GSN)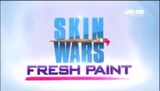 Special: 8/26/2015

Series: 6/15/2016 - 8/3/2016
Packager
Michael Levitt Productions
Skin Wars: Fresh Paint is a spiritual special (and later series) spinoff of Skin Wars where three of the most memorable former contestants will try to mentor artist who have never body painted before.
Premise
[
]
This self-contained spinoff features six highly accomplished artist, each at the top of their game in their own disciplines, as they leave their creative comfort zones to compete in body painting for the first time. The artist must conquer three difficult challenges, as they are mentored by three top artist from the first season of Skin Wars who are Dutch Bihary, Lawrence "Gear" Duran and season one champion Natalie Fletcher. The artist will work closely with their body painting mentors as they try to quickly master the craft and win the $10,000 prize and become a "Skin Wars: Fresh Paint" champion.
In each self-contained episode, the three Skin-Wars All Stars will work with artist from a variety of background and skill sets and give them a crash course in body painting. They'll help the new painters navigate throughout several rounds of intense competition, pushing them to apply their talents to the human canvas in innovative ways. It all culminates in a final challenge where the remaining two artist must put all they've learned to the test, competing a full body masterpiece on their own. In the end, they'll be judged by international body painter Emma Cammack and art critic Mat Gleason, founder of Coagula Art Journal and contributor to the Huffington Post.
Trivia
[
]
This is the only time where Rebecca Romijn isn't the host of this special spin-off.
RuPaul is also a judge on the regular version of Skin Wars since 2014.
This is the first GSN original that was a special turned series.
Related Show
[
]
Skin Wars - The original series that aired on GSN from 2014 until 2016.
Link
[
]